Hispanic American Association of Delaware and TeenSHARP organization introduced a joint virtual session to connect parents and students with the best information about scholarships, options and applications for college.
TeenSHARP is an organization that prepares low-income Latino and African-American students to enter college, graduate on time, and debt-free.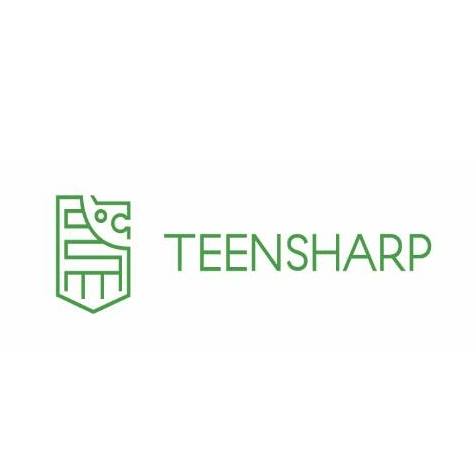 The topics discussed were the following:
When do you have to start preparing your college application?
How to access scholarships and opportunities at the best universities?
How can TeenSHARP bilingual staff help you and your children for free with college and university applications and getting the best scholarships?
Excellent opportunities for dreamers and undocumented immigrants were also mentioned.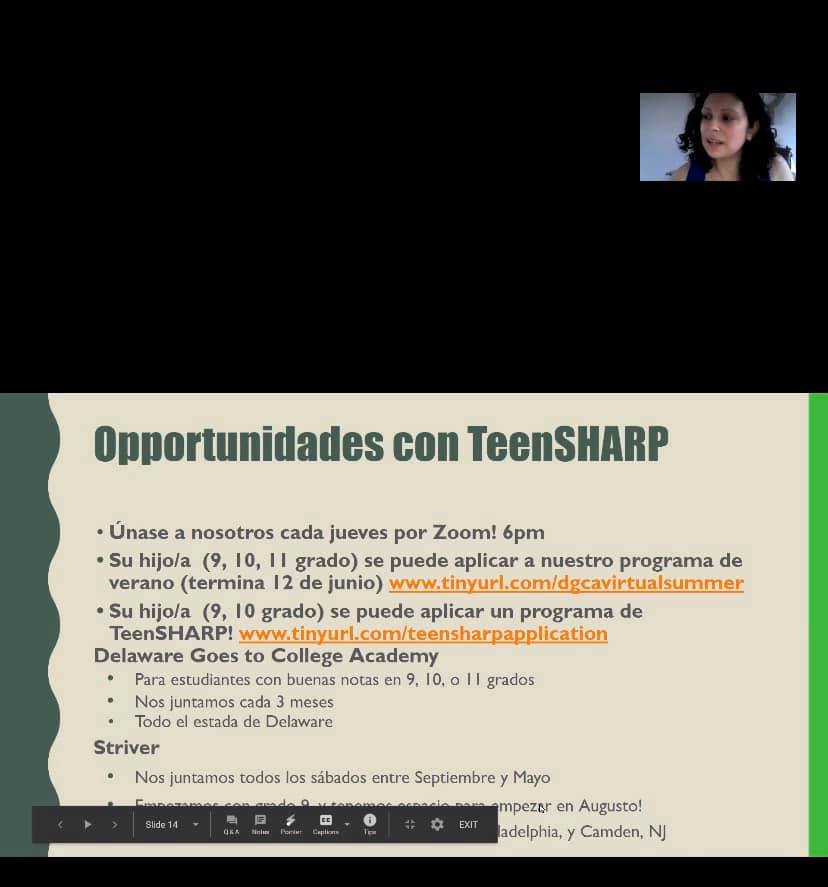 Thank you very much to the TeenSHARP organization, which together with the Hispanic Association (HAAD) provided an information session where many parents learned a lot and were able to share their concerns about college and university enrollment among many other things.
Thanks to Kim and Tatiana for their excellent work and thank you to the young people who shared their experience with TeenSHARP!
The session was a complete success!
•••••••••••••••••••••••••••••••••••••••••••••••••••••••
La Asociación Hispano-americana de Delaware y la organización TeenSHARP presentaron una sesión virtual conjunta para conectar a los padres y jóvenes con la mejor información acerca de becas, opciones, y aplicaciones para la universidad.
TeenSHARP es una organización que prepara a los jóvenes de bajos recursos, latinos y afroamericanos a ingresar al college, graduarse a tiempo y libre de deudas.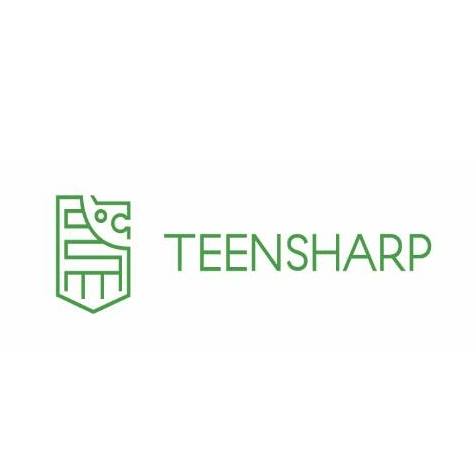 Los temas de los que se habló fueron los siguientes:
¿Cuándo tienen que iniciar con la preparación de su aplicación de la universidad?
¿Cómo tener acceso a becas y oportunidades en las mejores universidades?
¿Cómo el personal bilingüe de TeenSHARP puede ayudarlo a usted y a sus hijos gratuitamente con las aplicaciones a college y universidades y a conseguir las mejores becas?
También se mencionaron excelentes oportunidades para dreamers e indocumentados.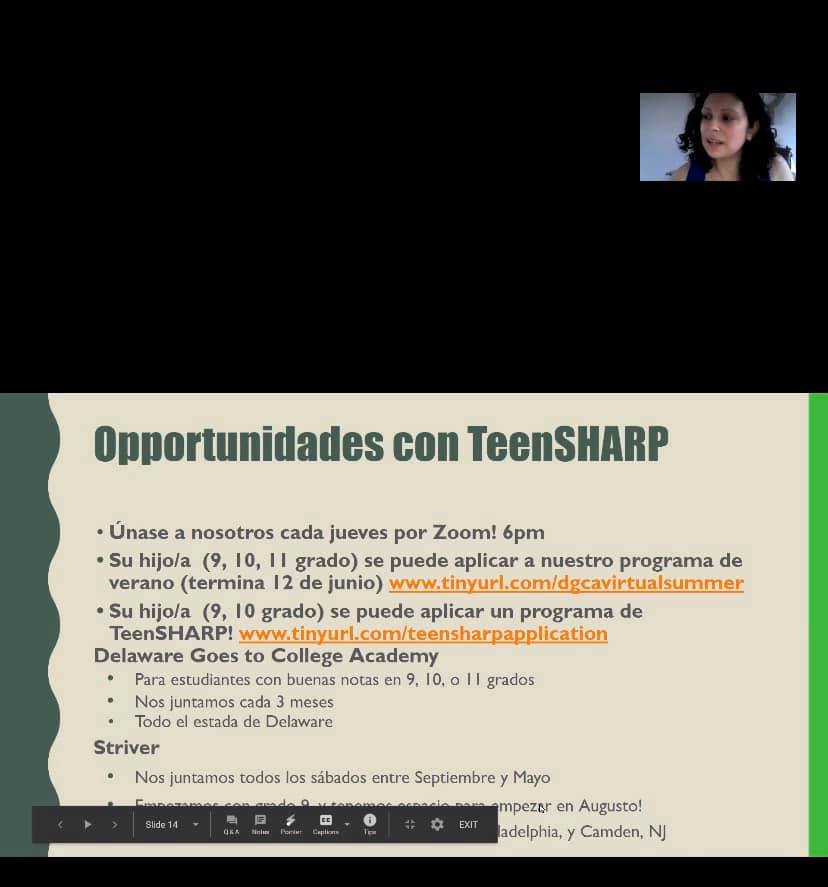 Muchas gracias a la organización de TeenSHARP, que junto con la Asociación Hispana (HAAD) brindaron una sesión informativa donde muchos madres y padres aprendieron bastante y pudieron compartir sus inquietudes acerca de las inscripciones al college y universidades entre muchas otras cosas.
¡Gracias a Kim y a Tatiana por su excelente labor, a los jóvenes que compartieron su experiencia con TeenSHARP!
¡La reunión fue todo un éxito!