The Day of the Dead dates back hundreds of years, and is celebrated throughout Mexico and the world. During the celebration of several days, family and friends gather in honor and celebration of loved ones who have passed away. Traditions include building offerings (dead altars), enjoying the deceased's favorite food and drink, and visiting the graves with memories of them.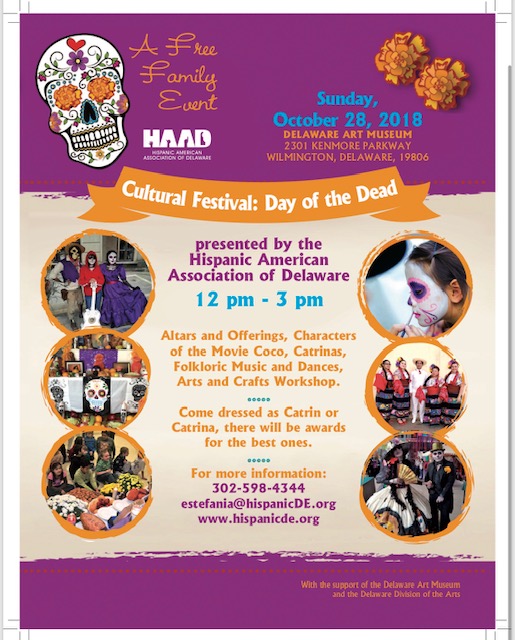 The Hispanic-American Association of Delaware with the support of the Delaware Art Museum and the Delaware Division of the Arts present a celebration full of offerings, characters from the film Coco, catrinas, music, folk dances, crafts and activities for boys and girls , which will be on Saturday, October 28, from 12 to 3 pm.
The association will present several altars honoring the dead and folk dances from the folkloric ballet, Mexico Lindo of the Hispano-American Association of Delaware.
Come dress as Catrín or Catrina, there will be prizes to the best ones. There will also be snacks available to buy.
For more info: estefania@hispanicde.org   |   302-598-4344
El Día de los Muertos data de hace cientos de años, y es celebrado por todo México y el mundo. Durante el festejo de varios días, familia y amigos se reúnen en honor y celebración de los seres amados que han fallecido. Las tradiciones incluyen construir ofrendas (altares de muertos), disfrutar de la comida y bebida favorita del difunto, y visitar las tumbas con recuerdos de ellos.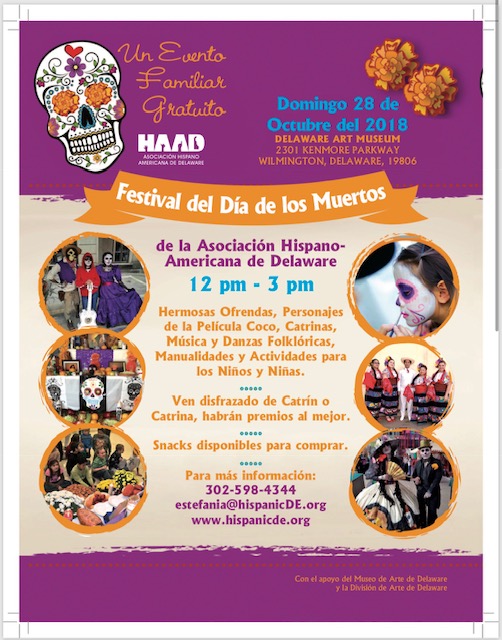 La Asociación Hispano-Americana de Delaware con el apoyo del Museo de Arte de Delaware y la División de Arte de Delaware presentan una celebración llena de ofrendas, personajes de la película Coco, catrinas, música,  danzas folklóricas, manualidades y actividades para niños y niñas, que será el sábado 28 de octubre de 12 a 3 pm.
La asociación presentará varios altares honrando a los muertos y bailes folklóricos por el ballet folklorico, Mexico Lindo de la Asociación Hispano-Americana.
Le invitamos a disfrazarse de Catrín o Catrina, habrá premios al mejor. También habrá snacks disponibles para comprar.
Más información: estefania@hispanicde.org   |   302-598-4344